K-M
LIVE BURIAL – Curse Of The Forlorn (2022)
(8.012) Maik (7,5/10) Death Metal
---
---



Nachdem ich den Vorgänger "Unending Futility" mit guten 8,5 Punkten heimgeschickt hatte, war ich eigentlich auf das neue, nunmehr dritte Langspielalbum der Deather aus Newcastle recht gespannt. "Curse Of The Forlorn" heißt das gute Stück, und präsentiert wieder altschuligen Death Metal, der mit Tempo, vielen Riffs und technischen Spielereien brilliert, mich aber trotz des mittlerweile siebten Durchlaufs nicht wirklich zu begeistern vermag.

Klar hier sind absolute Könner am Werk, die ihre musikalischen Fähigkeiten maximalst zur Schau stellen, den Hörer aber teilweise damit leicht überfordern. Dabei sind das weder unnachvollziehbares Gefrickel, noch megaschräge Distortions, die hier am Gehör vorbeischrammen, sondern der doch etwas dünne, für Death Metal zu höhenlastige Sound. Da auch der bellende Gesang von Jamie Brown mit massenhaft Hall unterlegt wurde, ergibt sich ein recht schwammiges Soundgemisch.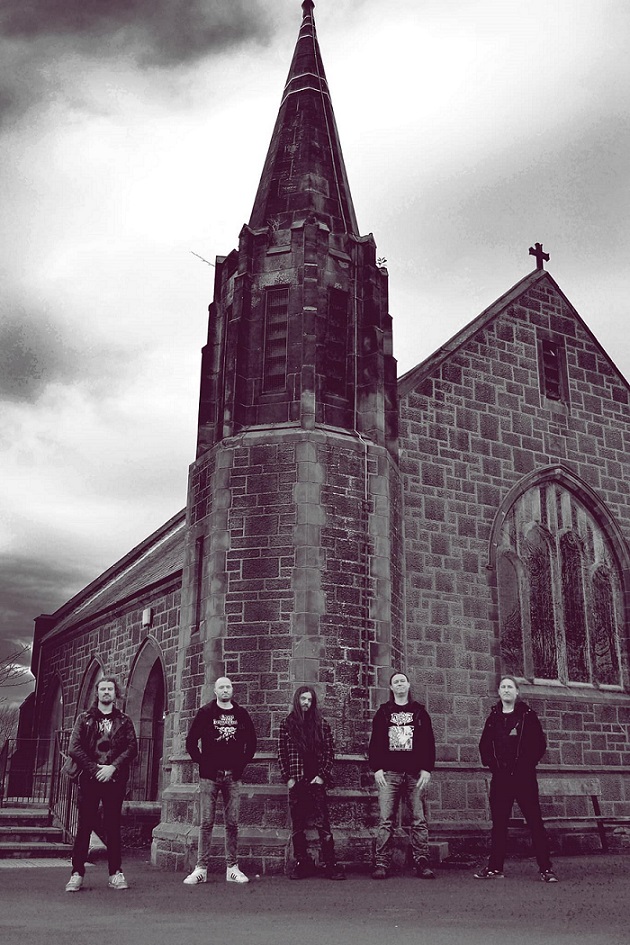 Und dabei fängt das so gut an. Die Gitarre erinnert zum Beginn des Openers an DEATH vom Debütalbum "Scream Bloody Gore", und auch der Gesang spielt irgendwo in der Liga zwischen altem Chuck Schuldiner und Martin Van Drunen, wirkt aber durch die garstige Produktion nur halb so effektiv.

Die Produktion ist tatsächlich das Hauptproblem. Einige Riffs kommen so arschgeil rüber, klingen aber kraft- und drucklos, da alles irgendwie dünn und bassarm wirkt. Das kann bei primitivem Black Metal oder räudigem Thrash recht reizvoll wirken, doch zum Death Metal gehört einfach die auf den Magen drückende Wucht einer dröhnenden Bassgitarre und tiefergestimmte Sechssaiter.
Zudem verlaufen sich LIFE BURIAL in zu vielen Facetten und überladen ihre Songs. Da sind Riffs und Parts drin, die ohne Probleme für sieben weitere Tracks gereicht hätten. Das soll wohl abwechslungsreich wirken, klingt aber eher, als hätte auf der Straße zum Songende ab und an das Navi ausgesetzt. Der gleichförmig wirkende Gesang verhindert ebenfalls, dass sich einzelne Songs in der Hirnrinde festkrallen. Damit schaffen es LIFE BURIAL, dass die Songs trotz massiver instrumentaler Varietät dennoch alle irgendwie gleich klingen.

Und das sind alles irgendwie Schussel Fehler, denn spielen und Songs schreiben können die Briten, und ab und an in Sphären des Black Metal (wie zu Beginn von "My Head As Tribute") zu greifen, hat dem Death Metal auch noch nie geschadet. Doch insgesamt kann mich das Album nicht wirklich abholen. Schade für LIFE BURIAL, aber die Note vom letzten Album ist hier definitiv nicht mehr gerechtfertigt.


Anspieltipp: "Despair In The Lost Self" und "My Head As Tribute"
---
Bewertung: 7,5 von 10 Punkten
---
01. Despair Of The Lost Self
02. The Ordeal Of Purification
03. My Head As Tribute
04. Exhumation And Execution
05. Blood And Copper
06. Sepulchre Of Lost Kingdoms
07. This Prison I Call Flesh
---
---