CD-Reviews A-D
ACHERON – Satanic Victory (2022)
(7.552) Maik (7,9/10) Black Death Metal
---
Label: Vic Records
VÖ: 21.01.2022
Stil: Black Death Metal
---
­
­
­
­
­
­
ACHERON, das schwarzschillernde Death Metal- Monster um den charismatischen Vincent Crowley dürfte wohl jedem in diesem Genre wildernden Fan ein Begriff sein. Nun, leider ist dies kein neues Album der Band, die hat sich schon seit einiger Zeit in die Gefilde des Hades begeben. Vincent hat seine VINCENT CROWLEY- Band und singt auch noch bei INFIDEL REICH und ist somit musikalisch anderweitig unterwegs.
Vic Records haben nun das Album "Satanic Voctory" aufgelegt. Neu aufgelegt, müsste man eigentlich schreiben, allerdings ist die ganze Geschichte ein wenig verwirrend, selbst für ACHERON- Fans.
Unter dem Titel "Satanic Victory" und mit dem hier verwendeten Coverartwork kam 1994 eine EP heraus. Ein Jahr später erschien "Hail Victory" mit teils denselben Songs (ohne "God Is Dead"), inklusive der "Alla Xul"- Single und den lange Zeit bei ACHERON üblichen Intros.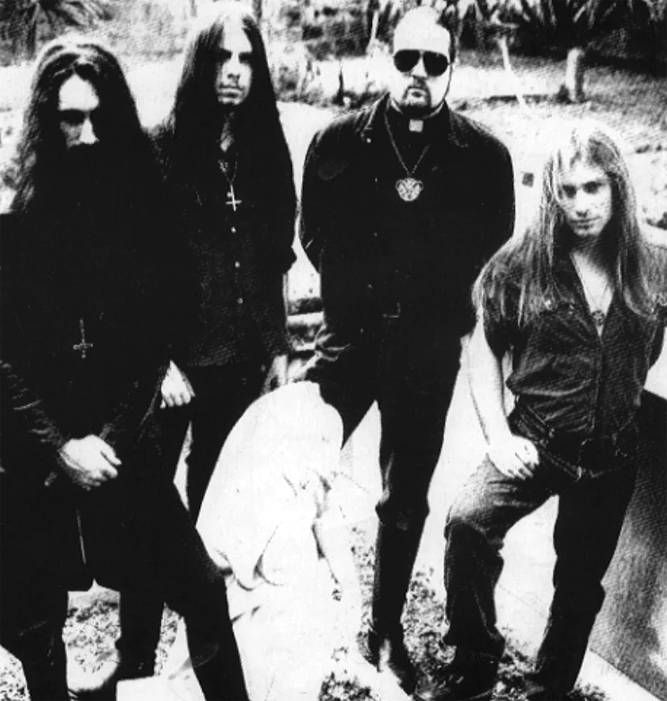 Das hier vorliegende Werk stellt nun praktisch die "Hail Victory" ohne die Intros dar, allerdings unter dem Titel "Satanic Victory", wohl, um gewisse Assoziationen zu vermeiden. Wobei "One With Darkness", "Prayer Of Hell" und "Unholy Praises" schon auf dem Debüt der Band "Rites Of The Black Mass" enthalten waren. Kommt Ihr noch mit?
Mit anderen Worten, es ist sozusagen ein Re-Release, welches ein Konglomerat aus vier Veröffentlichungen darstellt.
Okay, soweit zur shakespearesken Plattengeschichte. Musikalisch wird tiefschwarz eingefärbter Death Metal geboten, der mit nah an die Lehren Anton LaVeys und der Satanic Church angelegten Texten einherkommt. Von schleppenden, mit teils melodischen Soli versehen Songs wie "Satanic Erotica" bis zu Rumpelhymnen wie "Prayer Of Hell" findet der Freund satanischer Musizierkunst also alles, was das Herz des Gehörnten erfreut. Dürfte allerdings nur für den, der die genannten Frühwerke der Gruppe nicht besitzt, interessant sein.
Anspieltipp: "Satanic Erotica" und "Prayer Of Hell"
---
Bewertung: 7,9 von 10 Punkten
---
Tracklist:
01. Unholy Praises
02. Seven Deadly Sins
03. Satanic Erotica
04. Prayer Of Hell
05. 666
06. Alla Xul
07. One With Darkness
---
---