---
CD-Reviews A-D
DARKWOODS MY BETROTHED – Angel Of Carnage Unleashed (2021)
(7.435) Maik (8,2/10) Black Metal
---
---



Irgendwie ist diese Band damals, so gegen Ende der Neunziger Jahre, ziemlich an mir vorbeigeschrammt. Dies lag wohl an der Tatsache, dass zu dieser Zeit mein Interesse am nordischen Black Metal etwas abgeflacht war. Naja, und dann war die Band halt auch weg und raus aus dem Fokus. Tuomas Holopainen hatte dann ja die NIGHTWISH- Geschichte, mit der wohl auch mehr zu reißen war, und so waren auch DARKWOODS MY BETROTHED irgendwann mal weg vom Fenster.

Nun, der Lockdown hat wohl die Finnen insgesamt zu Workaholics gemacht, wie man schon an dem Mammutwerk von LORDI sieht, welches sie uns gnadenlos vor den Latz knallen werden. So sind auch DMB nach über zwanzig Jahren wieder zusammengekommen, um gemeinsam finsterem Black Metal zu frönen. Nun, Black Metal ist vielleicht etwas engstirnig betrachtet, denn was hier auf "Angel Of Carnage Unleashed" so zu Gehör gebracht wird, ist doch recht vielschichtig und facettenreich.
Nach einem einleitenden Glockengeläut und Begräbnistext gibt es auch gleich voll auf die Rübe. Wütender, rasender Black Metal fräst die ersten Schneisen durch die kargen finnischen Wälder. Zwischendrin wird es dann orchestral und episch, gar Chöre vernimmt mein Ohr. Doch nicht für lang, denn schon bald brettern die Kollegen wieder los, kurz bevor es regelrecht musicalmäßigen Sprechgesang zu schrägem Orgelspiel zu hören gibt. Schon mit dem ersten Track also, "Name The Dead", wird Abwechslung auf die Fahne geschrieben.

Bei "In Evil, Sickness And In Grief" beginnt man orchestral-bombastisch, bevor auch hier wieder das Schwarzmetallgekloppe hereinbricht. Ab und an fühlt man sich an frühe EMPEROR erinnert, vor allem auch gesanglich.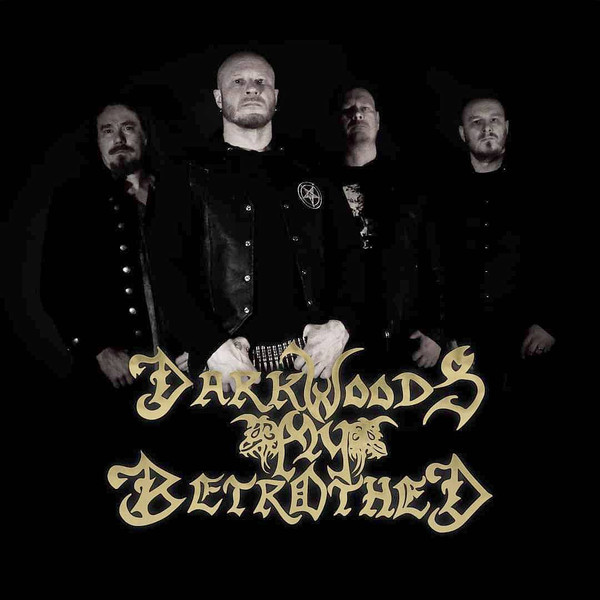 Andere Songs, wie "Murktide And Midnight Sun" oder "In Thrall To Ironskull's Heart" haben eher einen Pagan/Folk-metalmäßigen Einschlag, inklusive Klargesang, bei dem der eine oder andere Ton mit imperialer Sturmtruppenpräzision "getroffen" wird. "You Bitter Source Of Sorrow" kommt dann eher sinfonisch/hymnisch daher, während "Massacre", hence the name, nach kurzem Synthieeinstand wieder die Sparte wütender Black Metal bedient.

Das Album zieht also einen weiten Bogen zwischen bösartiger Raserei, hymnischen Parts, paganistischer Atmosphäre und Bombast und walzt das Ganze auch in epischer Breite aus. Dennoch oder gerade deshalb finde ich nicht wirklich einen Bezug zu dem Album, obwohl ich mir das Ding soeben zum fünften Mal reinziehe. Das kann daran liegen, dass mir persönlich der Kontrast zwischen hynmischer Epik und wahnsinniger Raserei eben doch etwas krass ist.
Am besten gefallen mir DARKWOODS MY BETROTHED, wenn sie so richtig fies losbrezeln. Die sinfonischen Parts sind dann teilweise etwas zu sweet für mich. Trotz allem würde ich aber jedem, der sowohl bösartiges Schwarzwurzelziehen als auch orchestrale Bombastelarbeiten mag, und sich auch gern beides zusammen reinzieht, vielleicht mit etwas Pagan Metal gewürzt, anraten, diese Scheibe einmal anzutesten.

Anspieltipp: "Name The Dead" und "Massacre"
---
Bewertung: 8,2 von 10 Punkten
---
01. Name The Dead
02. In Evil, Sickness And In Grief
03. Murktide And Midnight Sun
04. You Bitter Source Of Sorrow
05. Were We Dwell
06. In Thrall To Ironskull's Heart
07. Massacre08. Black Fog And Poison Wind
09. Outro

---
---
---
---
---