---
A-D
DISASTER – Secrets From The Past (2021)
(7.454) Maik (7,8/10) Thrash Metal
---
---



Meine Koblenzer Lieblingsabrißtruppe hat damals weise gehandelt, als sie sich für die deutsche Schreibweise dieses Wortes entschied, denn Bands mit dem Namen DISASTER tummelten bzw. tummeln sich in nahezu inflationärer Menge im Bereich der Stromgitarrenbranche.
Die hier vorliegenden Katastropholis kommen aus Kolumbien, und sind tatsächlich schon seit 1999 unterwegs. Daß man bisher noch nicht viel von denen mitbekommen hat, dürfte an der 'hektischen Betriebsamkeit' liegen, die die Band für ihre Veröffentlichungen an den Tag legte. Brauchten die Jungs aus Medellin doch tatsächlich bis 2014, um ihr erstes Album herauszubringen. Und nun, sieben weitere Jahre später, steht nun der Nachfolger zu Buche.
"Secrets From The Past" heißt das Ding, enthält 10 Tracks, die eine ganz eigene Art des Thrash Metal zelebrieren. Teilweise technisch, teilweise groovig, ab und an recht rasend und teilweise auch an amerikanischen Thrash angelegt. Aber dies alles recht oldschoolig.
Beim Song "Cold Blood" probiert man sich sogar an gangshout-mäßigem Chorus, während "Suffer In Pain" ein wenig an SODOMs "Sodomy And Lust" erinnert, und "Without Tomorrow" ein bissle an Bands wie DEATH ANGEL gemahnt.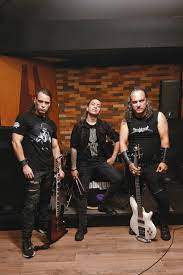 Die Gesangslinien erscheinen teilweise etwas schräg und stellen sich ab und an quer zum Riffing. Dabei variiert der Vokalist seine Darbietung von hardcoremäßigem Gesang bis hin zu deathmetallischem Gegrunze. Die Gitarren brezeln teilweise groovig ("Ancient Rites") oder auch mal hektisch durch die Gefilde. Auffallend auch immer wieder die Wechsel innerhalb der Songs, die teilweise recht überraschend wirken, und einen auch mal kurz den Faden verlieren lassen.
Aber gerade das stellt den besonderen Reiz der Platte dar, durch den sich die Band dann doch etwas von anderen Thrashern aus der Altschulklasse abhebt.
Auch immer wieder sehr schöne Gitarrensoli. Gerade die musikalischen Fähigkeiten der Bandmember fallen doch ins Auge, bzw. Ohr, besonders im Instrumentalstück "Living Fast, Dying Young".
Insgesamt fehlen dem Album allerdings ein wenig die durchreißenden Hits, dafür hat es mit z.B. "Blinded" dann auch mal einen leichten Durchhänger, bei dem besonders der Chorus etwas nervig herüberkommt. Auch das groovig-dissonante "Dark Reality" kommt recht schwer aus den Puschen.
Dennoch haben DISASTER hier ein feines Stück Thrash abgeliefert, welches vor allem durch die geile Gitarrenarbeit lebt. Stetige Wechsel in den Songs, treibende Soli und Blastbeatattacken lassen auch kaum Langeweile aufkommen. Die etwas unorthodoxen Gesangslinien trüben ab und an den angenehmen Höreindruck, aber das ist wahrscheinlich auch eine subjektive Empfindung.
Anspieltipp: "Demonic Curse" und "Promised Land
---
---
Bewertung: 7,8 von 10 Punkten
---
Tracklist:
01. Demonic Curse
02. Ancient Rites
03. Cold Blood
04. Suffer In Pain
05. Living Fast Dyning Young
06. Without Tomorrow
07. Blinded
08. Dark Reality
09. Promised Land
10. Disillusions
---
---
---
---
---