---
CD-Reviews A-D
CRAWLING MANIFEST – Radical Absolution (2021)
(7.108) Marky (6,0/10) Heavy/Thrash/Core Metal
---
Label: Eigenproduktion/CD Baby
VÖ: 14.05.2021
Stil: Heavy/Thrash/Core Metal
---
­
­
­
Also ich musste mir den neuen Longplayer von CRAWLING MANIFEST ja erst ein paarmal anhören, bevor ich etwas warm mit "Radical Absulution" wurde. Zuvor veröffentlichten die mittlerweile nur noch aus zwei Jungs bestehende "Band" aus Greensboro, Maryland/U.S.A., zwei EP´S und ein Debütalbum ("Battlegrounds") aus dem Jahr 2018. Zum neuen Album gab es bereits im letzten Jahr die Songs "World War III" und "Revolution" zu belauschen, die beiden auch auf dem aktuellen Longplayer drauf sind.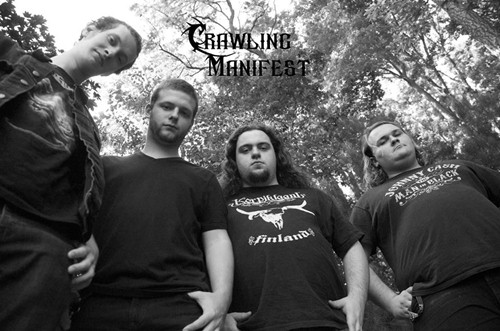 CRAWLING MANIFEST machen für mich eine wenig eingängige Mixtur aus Heavy Metal/Thrash Metal Arrangements und aufgrund des Gekeifes von Sänger Andrew Gladu, kommt noch ein Crossover/Hardcore Touch dazu. Die Mucke ist zwar gut gespielt, kommt aber wenig hängenbleibend daher. Sobald die (programmierten?) Double Bassdrums einsetzen, will ich am liebsten ausdrehen. Beim Titelsong "Radical Absolution", sowie bei "Revolution" funktioniert das etwas griffiger, womit auch schon meine lediglich zwei Anspieltipps genannt wären.
Der Soundmischmasch aus Heavy Metal/Thrash Metal Riffs und einem Hardcore Gebrülle funktioniert im Fall von CRAWLING MANIFEST nur bedingt. "Radical Absolution" ist zwar wesentlich besser produziert als das Debüt, doch die mittlerweile auf zwei Mann geschrumpfte Band, vermag es immer noch nicht gute Songs zu schreiben, die einen dazu einladen sie nochmal anhören zu wollen.
Anspieltipps: "Radical Absolution" und "Revolution"
---
Bewertung: 6,0 von 10 Punkten
---
Tracklist:
01. Land Of The Free
02. World War III
03. Nothing To Lose
04. Right To Refrain Silence
05. Radical Absolution
06. Blood Born
07. Revolution
08. Onslaugt
---
---
---
---
FESTIVAL TIPS 2021
Tja...wohl doch erst wieder 2022...
---
---