---
---
ARMORED SAINT - Symbol of salvation
---
Label: Metal Blade Records
VÖ: 14.05.1991
Stil: Heavy Metal
---
Ja, ja, ja, ich höre die Metalpuristen schon Blasphemie schreien. Auch ich zähle mich zu den Jüngern der gepanzerten Heiligen und Lobpreise die ersten drei Platten der New Yorker auch jeden Tag. Aber was sie anno 1991 mit "Symbol Of Salvation" auf Vinyl zauberten und unter welchen Umständen diese Platte entstanden ist, unterlag einer einzigartigen Magie, wenn auch mit einer vorausgehenden negativen Konjunktion.

Schon zur vorherigen Veröffentlichung von "Delirious Nomad" verließen die Brüder Phil (Gitarre) und Gonzo Sandoval (Drums) die Band und wegen anhaltender Erfolglosigkeit im Mainstream Sektor, schasste das Major Plattenlabel Chrysalis Records, einem Ableger der E.M.I., ARMORED SAINT kurzerhand. Als weiterer und härtester Schicksalsschlag für die Band, erlag Gitarrist und Gründungsmitglied Dave Prichard, 1990 seinem Leukämie Leiden.
Kein geringerer als Metal Blade Records Chef Brian Slagel blieb hartnäckig an der Band dran, verfolgte ihre Demo Produktionen im Vorfeld zu "Symbol Of Salvation" und war der zündenden Funke, der den bereits für Tod erklärten ARMORED SAINT, wieder Leben einhauchte. Auch nach dieser Veröffentlichung gab es wieder Querelen und die Band bracht 1992 erneut auseinander, auch weil John Bush, bekanntermaßen zu ANTHRAX geholt wurde.

Ich kann nicht anders als von einer einzigartigen Magie zu sprechen, wenn ich mir die Songs von "Symbol Of Salvation" immer und immer wieder anhöre. Allein schon die der Einstieg mit "Reign Of Fear", "Dropping Like Flies" und dem Megahit "Last Train Home" gehört mit zum Besten was der reinrassige Heavy Metal bis zum Jahre 1991 zu Tage förderte. Ich bekomme immer noch Gänsehaut, wenn das Einstiegsriff zu "Last Train Home" erklingt. Ich knie nieder, wenn John Bush mit seiner sehr männlich-dominanten Stimme den Refrain singt und habe dazu, vor Ergriffenheit, Tränen in den Augen. Die geilen Hooklines und diese Songdynamik sind einfach unfassbar geil.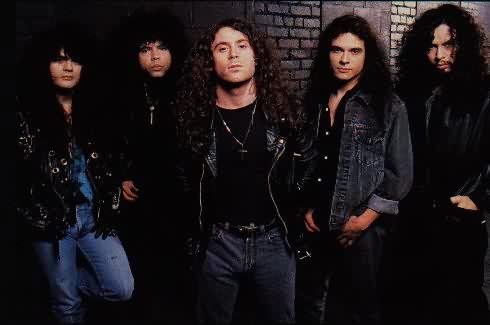 Wiederrum sorgen "Tibal Dance", mit seinem leicht anderen Grundrhythmik, oder die Ballade "Another Day", für Abwechslung auf der Platte, die trotzdem wie aus einem Guss produziert klingt. Vor allem die Ballade lässt einen unweigerlich an Dave Prichard denken, dem die ganze Platte auch gewidmet wurde. Dieser ist sogar noch auf dem Song "Tainted Past", mit seinem Solo von der Demoversion des Songs, zu hören. Eine sehr schöne Geste!

Es soll Metalnerds geben, die zur Mitte der Platte gewisse Schwächen erkennen wollen, nur weil sie den zweiten ARMORED SAINT Klassiker "Delirious Nomad" der "Symbol Of Salvation" Platte vorziehen. Eine Diskussion ist zwecklos, weil Geschmäcker nun mal verschieden sind.
Wenn man im weiteren Verlauf noch solche Granaten wie den Titelsong "Symbol Of Salvation", "Burning Question" und vor allem den letzten Song "Spineless" zu hören bekommt und die anderen Songs kein Gramm von diesem hohen Niveau vermissen lassen, kann man nur von einer Klassiker Scheibe sprechen, die jeder Metalhead in seinem Regal stehen haben sollte.

Bow down to the Saints, cause the Saints will conquer – Amen!
---
---