---
---
CD-Reviews A-D
AVANTASIA – A Paranormal Evening With The Moonflower Society (2022)
(8.034) Maik (8,9/10) Symphonic Metal
---
Label: Nuclear Blast
VÖ: 21.10.2022
Stil: Symphonic Metal
---
­
­
­
Tobias Sammet, seines Zeichens Gesangsakrobat von EDGUY, bringt nun ein weiteres Album seines opernhaften Panoptikums AVANTASIA dem geneigten Hörer dar, und wie schon bekannt, schwelgt er wieder in bombastischer Völlerei. Das Coverartwork könnte schon mal aus einem Tim Burton- Film stammen, die Musik allerdings ist weniger skurril gehalten.
Normalerweise ist ja unser Christian der AVANTASIA- Experte bei Zephyr's Odem, aber uns Olaf reizt ja gern mal meine Schmerzgrenze aus, und so ist es nun an mir altem Krachfanatiker, mich an dieses ausgeklügelte Wrk zu wagen.
Wie schon auf früheren Alben hat der Meister wieder einige Gesangsgrössen der Szene um sich geschart, wie beispielsweise Ralf Scheepers, Michael Kiske, Floor Jansen und Geoff Tate. Nun sind derartige Sängerkongresse nun auch nicht mehr das Allerneuste im Geschäft musikalischer Tonträgerfabrikation, und so langsam wirkt das auf mich auch etwas inflationär. Ich wundere mich auch, dass der Ripper nicht dabei ist. Der singt doch sonst auf allen Hochzeiten!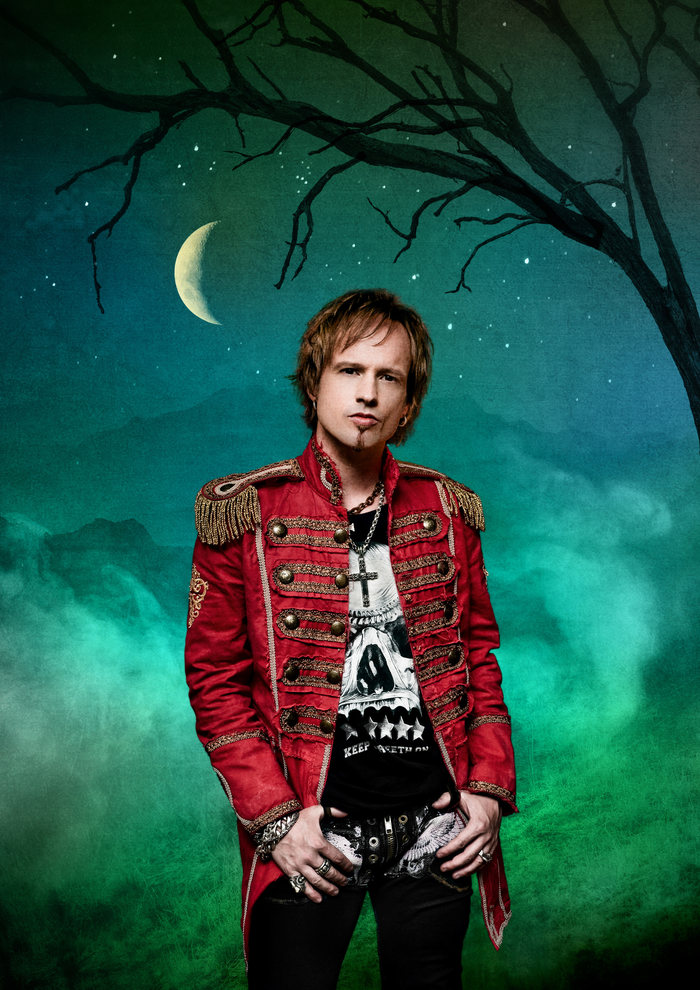 Aber kommen wir zur Musik. Der Opener "Welcome To The Shadows" schwelgt in MEAT LOAFscher Opulenz und Theatralik, wirkt aber dennoch eingängig und, naja recht nett. Da rockt das nun folgende "The Wicked Rule The Night" um einiges heftiger in die Runde, vor allem, weil Ralf Scheepers einen ziemlichen JUDAS PRIEST- Touch reinbringt.
Das orchestrale "Kill The Pain Away" kommt etwas poppig daher, was allerdings nicht ausschliesslich an NIGHTWISH- Goldkehlchen Floor Jansen liegt, die sich hier mit einbringt. Die hard- Metallern wird nun sicher die Kinnlade nach unten sacken. Wenn Ihr Euch bückt, bringt bitte meine mit! Ich hab' Rücken.
Okay, mit dem Solo wird es noch recht heavy, allerdings erinnern die Chöre mehr an die orchestralen Ausflüge von THERION. Und dass sich ein Song mit Michael Kiske, nämlich "The Inmost Light", der anfangs wie ein mit Blastbeats unterlegtes Weihnachtsstück klingt, leicht nach HELLOWEEN anhört, verwundert sicher auch nicht sehr.
Irgendwie an BONNIE TYLER meets MEAT LOAF erinnert die Ballade "Misplaced Among The Angels", und dürfte auch auch Ü60- Parties mittlerweile nicht für Hörstürze sorgen. Alles also ganz nett, melodiös und clean. Und natürlich perfekt inszeniert.
Dazu kommt noch, dass die Mucke trotz allen Bombastes und des opernhaften Aufbaus nicht überkandidelt und schwer nachvollziehbar rüberkommt. Es wird auf ausufernde Sprecheinlagen verzichtet, ebenso auf allzu proggige Frickeleinlagen. Das Plattenkonzept wird nicht als enges Korsett empfunden, die Songs könnten auch für sich stehen und wirken dann nicht aus dem Zusammenhang gerissen.
Für Leute wie mich, also engstirnige Headbanger mit alkoholgetränkten Hirnlappen, ist das nicht so das grosse Ding. Mir gefallen am besten die Songs, wo es ein wenig abgeht, wie das schon erwähnte "The Wicked Rule The Night" oder das von Jorn Lande veredelte "I Tame The Storm". Von daher kann man sagen, für fast jeden etwas dabei.
Wer auf sinfonisch angehauchten Bombastmetal mit nicht zu viel Zuckerguss (und ohne Zitronencremebällchen) steht, kann hier bedenkenlos zugreifen.
Anspieltipp: "The Wicked Rule The Night" und "I Tame The Storm"
---
Bewertung: 8,9 von 10 Punkten
---
Tracklist:
01. Welcome To The Shadows
02. The Wicked Rule The Night
03. Kill The Pain Away
04. The Inmost Light
05. Misplaced Among The Angels
06. I Tame The Storm
07. Paper Plane
08. The Moonflower Society
09. Rhyme And Reason
10. Scars
11. Arabesque
---
---
---
---
---